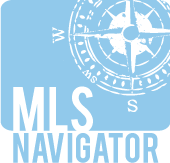 Your Complete MLS and
Integrated Lead Management Solution
MLS-Navigator Features
Front-End Features
Integrates seamlessly with design of your existing website.
Users easily sign up to receive Automatic Daily Alert updates by email based on selected search criteria.
Allows visitors to perform a simple or advanced search.
User can peruse IDX data anonymously or access advanced features by logging in with their email address.
Advanced features allow users to map properties, save searches, save properties, compare properties, and perform advanced interactive comps.
Users can customize the print view of all listings and searches.
Tell-a-Friend feature makes it easy for a user to send a listing to a friend or relative.
Lead Management Features
MLS-Navigator application tracks all visitor traffic, page views, searches, saved properties and saved searches.
Provides access to buyer's email address, search criteria, DailyAlert settings, saved searches, saved properties and more.
Generates valuable leads for your real estate business from website traffic, and enables you to manually add leads and import leads from other programs and sources.
Automatically measures the value of each lead using a scale from COLD to HOT based on predetermined visitor criteria, making it easy for you to find your most valuable prospects.
Provides valuable traffic information about public and private website visits, searches and page views.
Enables you to keep track of which properties are being view by your buyers, how often your leads are logging on to your website, and what types of searches are being performed.
Provides an easy way to keep in touch with both new and existing customers, and to send properties or comments to leads via email.
Maintains ongoing comment history enabling you to post comments and reminders for yourself, or to send comments directly to a lead's email address.
Multiple Agent Support and Multi-User Licensing enables a site administrator to assign leads to agents throughout your office, a sister office, and tracks each lead throughout its life cycle.
Customizable preferences enable easy follow-up of past leads and ultimately help you to convert more sales.
As a web-based application, MLS-Navigator is available wherever there is access to the internet.